We have 22 guests online
Login Form
| | | |
| --- | --- | --- |
| AMD Phenom II X4 955 BE | | |
Written by Michael Schuette
Apr 23, 2009 at 12:08 AM
Page 1 of 18


2009 been been an interesting year so far, to say the least. AMD has released its Phenom II line of CPU to breathe some fresh wind into the desktop world, Intel has released their line of Nehalem EB 2-way server CPUs while delaying the launch of the Core i5 (if that is to be the final name of the Westmere line of processor) and all of a sudden, nothing is like it was before. In turn, AMD has been forced to pull in the launch of the Istanbul server processors from October to May - resulting in a somewhat short life for Shanghai. In the graphics market, AMD's RADEON offerings continue to dominate on price and performance and at the same time, the fab business spin-off has created some cash cushion at precisely the time where cash has become the most valuable commodity in the business. So, not all is bad in Austin / Toronto. in fact, at least from the outside, things look quite a bit better than what the gloomy downhill perspective of last fall forecasted.
Intel's Nehalem has raised the stakes, combining a superior architecture with what some might call some very dirty tricks like dynamic overclocking or Turbo Boost of single cores. In all fairness, though, whatever works works and adding custom adaptational mechanisms to accomodate the heterotypic landscape of applications in transition from single- to multithreading is a perfect example of thinking outside the box with surprisingly good results. On the other hand, if it is out there and public knowledge, then the technology is fair game for anyone - with the minor issue of intellectual property that could throw a monkey wrench into the global adoption. Needless to say that there is a lot of prior art in the public domain, resulting in the fact that patent protection often can only be obtained for some very specific ways of doing things - rather than the operational principle - even if the specific way is the most elegant way of doing things. Likewise, nobody wants to be called a copycat. Consequenty, sometimes, we see some more awkward realizations of technology maturing to life, or maybe, they only look awkward at first glance, because we have been primed by an alternative method of doing things already. Those are some of the thoughts I have been pondering in the last two weeks, benchmarking and evaluating AMD's latest desktop processor a.k.a. Phenom II X4 955 Black Edition.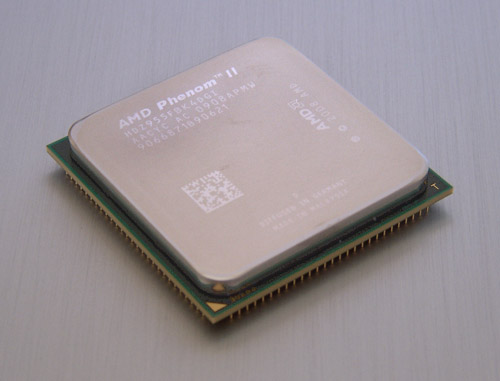 Phenom II X4 955 Black Edition
The New Stuff
With respect to hardware, nothing really seems to have changed, there are no changes in chache size, the '955 features the full size 6 MB L3 cache, nor has the transistor count changed. Rated frequency is up a bit, from 3.0 GHz in the X4 940 to 3.2 GHz in the 955 and, of course, the socket pinout is AM3, meaning a 938 pin-count and native DDR3 support with backward compatibility with any AM2/AM2+ board as long as the BIOS supports the new CPU. At the same time, AMD is launching the Phenom II X4 945, which essentially replaces the X4 940 in Socket AM3 flavor and runs natively at 3.0 GHz. In so far, there is really nothing new but some tweaks must have been applied because new BIOS revisions are required to operate the new CPU offerings. Moreover, we observed a few anomalies in benchmarking behavior that further support our suspicions that more fine-tuning went on under the hood than what AMD publicly discloses.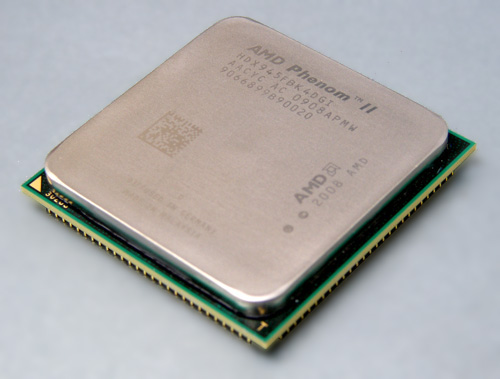 Phenom II X4 945
Before going into benchmarks - arguably what a lot of this article is all about - there are a few improvements in AMD's Overdrive (AOD) version 3, a beta version of which we had, introducing an amalgamate of EPP and XMP and Turbo Boost in a single software interface. And guess what, it is actually done in a pretty smart fashion (no surprise there since your's truly had a finger in some of the feature definitions).
Last Updated ( Apr 28, 2009 at 11:27 AM )