We have 42 guests online
Login Form
| | | |
| --- | --- | --- |
| nVidia GeForce GTX 280 | | |
Written by Michael Schuette
Aug 05, 2009 at 03:52 PM
Page 1 of 13





As one of the "Major 2" GPU manufacturers, nVidia is in a fierce competition with ATI/AMD, both in the mobile and in the desktop market segment. Both companies have focused on the same strategies, namely, massive parallel processing of streaming data on the chip level and multi-GPU processing for additional scaling of performance. Needless to say that there are the "lesser" factors that are nonetheless boosted as marketing tools, for example, nVidia is boasting their integrated PhysX technology acquired with Ageia's NovodeX middleware, whereas AMD is focusing more on the DX 10.1 API.

For most gamers, neither technology bears any significant advantage at this moment, either due to lack of support or else because adding the additional effects – as impressive as they may be – only decreases the gaming experience since things are getting plain and simply confusing. Nonetheless, both technologies are important for the further development of games, even though on a different level. PhysX can be extremely powerful if implemented correctly and not just as a "look what we can do with that" feature, likewise, it only takes one look at the Unigine Tropics DX10.1 demo to grasp the difference between some migraine-causing jitter of foliage and the smooth sunspots generated using Alpha Test MSAA.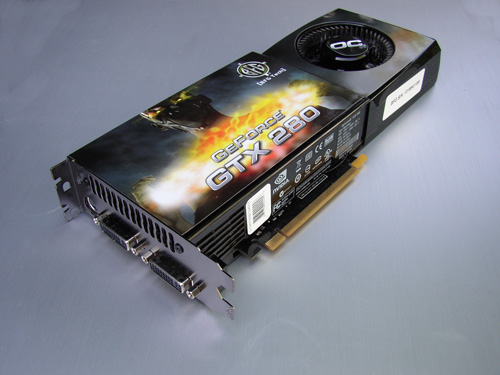 Hopefully, both technologies will catch on one way or the other, or amalgamate into the next technology, whatever it'll be called. Until then, we are stuck with the stock solutions, which in their high end offerings already pack an incredible punch for graphics processing. Speaking of which, general purpose processing on the GPU level is another issue we have pursued for over 6 years now when we started running semantic analyses of word documents on a pair of GF 7800GT's. For the article at hand, we won't go there, rather we'll concentrate on what most gamers are interested in, namely, how does the GF GTX 280 perform in the latest games, including FarCry2, F.E.A.R. 2, Race Driver GRID and the like. We'll throw in a few synthetic benchmarks as well for reference, though.
Last Updated ( Aug 14, 2009 at 12:21 PM )