We have 35 guests online
Login Form
| | | |
| --- | --- | --- |
| AMD's Athlon II X3 435 and X2 240e | | |
Written by Michael Schuette
Nov 19, 2009 at 09:14 PM
Page 1 of 20

Something is happening at AMD. After a few years of pushing products into the market that were just ok, there is a flurry of activity surrounding new products. New designs like the Propus a.k.a. Athlon II X4 are extremely attractive solutions not only in the mid-range but also in the lower market segment. For situations where a quad core still may be overkill when it comes to the bare minimum of an energy-conservative set-top box as the center of a home theater PC new dual cores are available. In this case, low power is all the rage, as long as there is enough horse power to run home theater application in whatever format, including blue ray. This is where the "Regor" core used in the new dual core Athlon II X 2 250 already created a rush of excitement.
Aside from power, there are other considerations, the most important one potentially being the pricing. At an introductory price of roughly US$ 70.-, the '250 is already a bargain chip, but at the same time, there are still improvements possible, both with respect to the TDP of 65 W and also, to dispel the latest doubts regarding who might be the undisputed king of the budget performers when it comes to a price/power/performance ratio. The latest release from AMD targets exactly this type of metric by carpet bombing the shelves with a solution for anybody regardless of where the preferences are. Changes in the line up include optional lowering of the TDP to 45W and the suggested pricing to US$ 60.-. But, you can't have both, the low power edition with the coveted "e" suffix does command a price premium.
And the performance .. the default core frequency has been lowered to 2.8 GHz but we'll talk about the ramifications in just a little bit. The other thing creating some kind of a buzz for AMD has been the introduction of triple-core processors. Give them whatever code name may float around in the form and shape of celestial bodies, Toliman, Heka, it really doesn't matter since the hardware is exactly the same as in the comparable quad-core equivalent of Agena or Deneb or Propus, in which case the triple core is code-named Rana. Rana is an interesting choice of name, though, ever seen a frog with three legs? Exactly!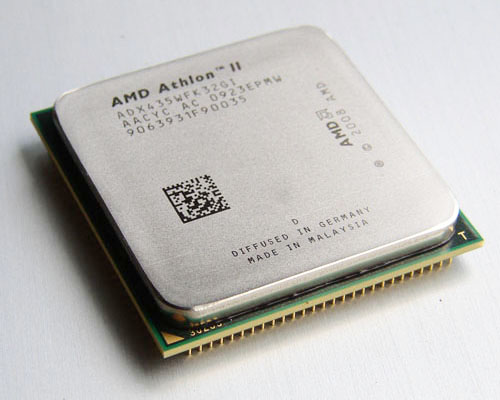 With the new additions, though, AMD does have a rather impressive line-up of CPUs in the channel, for easy viewing, the energy-efficient models are hi-lighted in green.
Processor
Clock Speed
L2 Cache
L3 Cache
TDP
Price
AMD Phenom II X4 965 BE (C2)
3.4GHz
2MB
6MB
140W
$195
AMD Phenom II X4 965 BE (C3)
3.4GHz
2MB
6MB
125W
$195
AMD Phenom II X4 955 BE
3.2GHz
2MB
6MB
125W
$175
AMD Phenom II X4 945
3.0GHz
2MB
6MB
125W
$165
AMD Phenom II X4 925
2.8GHz
2MB
6MB
125W
$145
AMD Phenom II X4 905e
2.5GHz
2MB
6MB
65W
$145
AMD Phenom II X3 720 BE
2.8GHz
1.5MB
6MB
95W
$145
AMD Phenom II X3 705 BE
2.5GHz
1.5MB
6MB
65W
$125
AMD Phenom II X2 550 BE
3.1GHz
1MB
6MB
80W
$105
AMD Athlon II X4 630
2.8GHz
2MB
n/a
95W
$122
AMD Athlon II X4 620
2.6GHz
2MB
n/a
95W
$99
AMD Athlon II X3 435
2.9GHz
1.5MB
n/a
95W
$87
AMD Athlon II X3 425
2.7GHz
1.5MB
n/a
95W
$76
AMD Athlon II X2 250
3.0GHz
2MB
n/a
65W
$69
AMD Athlon II X2 245
2.9GHz
2MB
n/a
65W
$64
AMD Athlon II X2 240
2.8GHz
2MB
n/a
65W
$60
AMD Athlon II X4 605e
2.3GHz
2MB
n/a
45W
$143
AMD Athlon II X4 600e
2.2GHz
2MB
n/a
45W
$133
AMD Athlon II X3 405e
2.3GHz
1.5MB
n/a
45W
$102
AMD Athlon II X3 400e
2.2GHz
1.5MB
n/a
45W
$97
AMD Athlon II X2 240e
2.8GHz
2MB
n/a
45W
$77
AMD Athlon II X2 235e
2.7GHz
2MB
n/a
45W
$69
Last Updated ( Sep 14, 2010 at 03:48 AM )