| | | |
| --- | --- | --- |
| AMD Phenom II X6: Thuban the Dragon | | |
Written by Michael Schuette
Apr 26, 2010 at 02:11 AM
Page 2 of 24
Specs at One Glance
Aside from the TurboCORE Technology, not much has really changed. Of course, there is the addition of the extre two cores and, borrowed from the server processor, the Smart Cache technology that copies the L2 contents into the L3 cache if a core goes into deep power down state. Otherwise, the specs are as follows:
True Six Core Processing
AMD Turbo CORE Technology
L1 Cache: 128KB (64KB Instruction + 64KB Data) x6(six-core)
L2 Cache: 512KB x6(six-core)
L3 Cache: 6MB Shared L3
45-nanometer SOI (silicon-on-insulator) technology
HyperTransport™ 3.0 16-bit/16-bit link at up to 4000MT/s full duplex; or up to 16.0GB/s I/O bandwidth
Up to 21GB/sec dual channel memory bandwidth
Support for unregistered DIMMs up to PC2 8500 (DDR2-1066MHz) and PC3 10600
Direct Connect Architecture
AMD Balanced Smart Cache
AMD Dedicated Multi-cache
AMD Virtualization™ (AMD-V™)Technology
AMD PowerNow™ 3.0 Technology
AMD Dynamic Power Management
Multi-Point Thermal Control
AMD CoolCore™ Technology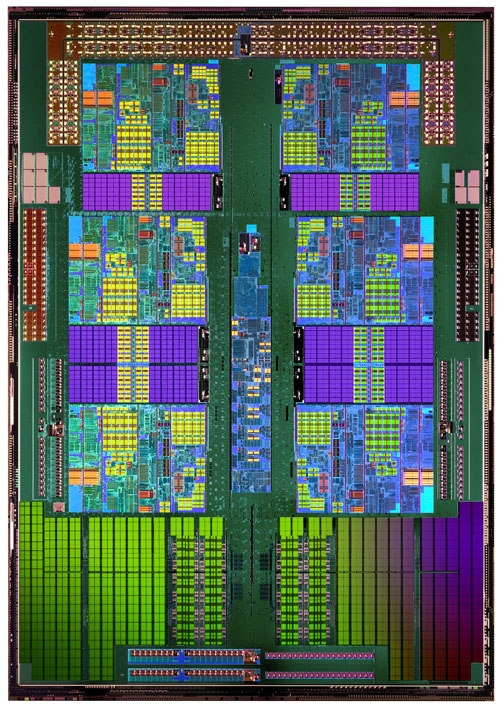 Thuban die shot (courtesy of AMD) with the 6 cores in the top part of the photograph and the shared L3 cache in the bottom portion. Balanced Smart Cache is the already mentioned copying of L2 cache data in to the L3 to maintain cache-coherency if cores go into power-down states. Dedicated Multi-cache is just another word for a shared L3 cache and the rest is essentially whatever was introduced with Deneb.
All the different code names make it a bit difficult to keep track of what is what, for a more comprehensive comparison, the most important features for each model are listed below again.
| | | | | | | | | |
| --- | --- | --- | --- | --- | --- | --- | --- | --- |
| Processor | Code Name | Clock Speed | L2 Cache | L3 Cache | Die Size | Transistor Count | TDP | Price |
| Phenom II X6 1090T | Thuban | 3.2/3.6 GHz GHz | 3 MB | 6 MB | 346 mm2 | 904 Million | 125 W | US$ 285.- |
| Phenom II X6 1055T | Thuban | 2.8/3.3 GHz GHz | 3 MB | 6 MB | 346 mm2 | 904 Million | 125 W | US$ 199.- |
| Phenom II X4 965 BE | Deneb | 3.4 GHz | 2 MB | 6 MB | 258 mm2 | 758 Million | 140 W | US$ 245.- |
| Phenom II X4 955 BE | Deneb | 3.2 GHz | 2 MB | 6 MB | 258 mm2 | 758 Million | 125 W | US$ 245.- |
| Phenom II X4 945 | Deneb | 3.0 GHz | 2 MB | 6 MB | 258 mm2 | 758 Million | 125 W | US$ 225.- |
| Phenom II X3 720 BE | Heka | 2.8 GHz | 1.5 MB | 6 MB | 258 mm2 | 758 Million | 95 W | US$ 145.- |
| Phenom II X2 250 BE | Callisto | 3.1 GHz | 1 MB | 6 MB | 258 mm2 | 758 Million | 80 W | US$ 105.- |
| Athlon II X4 630 | Propus | 2.8 GHz | 2 MB | n/a | 169 mm2 | 300 Million | 95 W | US$ 122.- |
| Athlon II X4 620 | Propus | 2.6 GHz | 2 MB | n/a | 169 mm2 | 300 Million | 95 W | US$ 99.- |
| Athlon II X2 250 | Regor | 3.0 GHz | 2 MB | n/a | 117 mm2 | 234 Million | 65 W | US$ 87.- |
Discuss this article in our forums
Last Updated ( May 05, 2010 at 02:59 PM )