We have 48 guests online
Login Form
| | | |
| --- | --- | --- |
| PowerColor RADEON 5870 PCS+ | | |
Written by Michael Schuette
May 07, 2010 at 04:52 PM
Page 1 of 17

In our previous articles featuring some of the ASUS Extreme series graphics cards we covered how allowing custom implementations of the Evergreen GPUs has rekindled some of the fire of AMD's latest graphics card line-ups. Essentially, every AMD partner is able to throw their own customization in the mix, some of it is higher quality parts, some of it is cosmetics, some of it is redesigning the circuit board layout in order to add tweaks and some of it is omission of unnecessary ports to cut production cost and/or reduce electromagnetic interference. By the end of the day all of these customizations serve two purposes, that is, on the one side are performance gains that underscore the leading role of AMD graphics solutions, on the other side is the fact that deviations from the reference design will drop, almost by definition, the liability with respect to performance and reliability in the partner's lap. The consumer wins, AMD wins, the partner wins, it is pretty much as easy as that. On the downside – for the competition – is the fact that every comparison now becomes a moving target.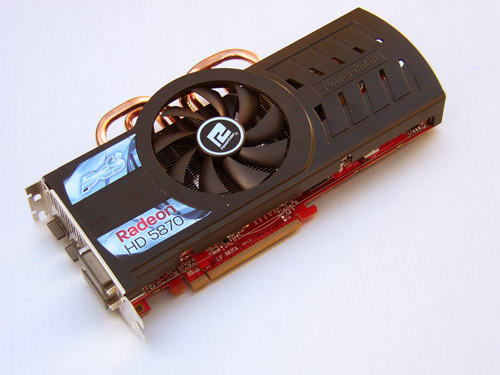 One of AMD's strongest channel partners is PowerColor, a subsidiary of Taiwanese Technology Unlimited (TUL) Corporation and headquartered in City of Industry in SoCal. As one of the top three graphics card manufacturers, along with ASUS and Sapphire, PowerColor can throw in some weight to procure some of the highest binned GPUs and tie them into their top of the line specialty cards. Interestingly enough, PowerColor doesn't stop at having one standard and one extreme solution, rather, to use the RADEON 5870 as example, the repertoire encompasses no less than eight different solutions characterized by GPU frequency, memory amount and speed and the game bundled with the card. Accordingly, aside from LES, PCS++ and PCS+, we can be looking at a Dirt2 edition or a Call of Duty Edition with otherwise identical specs. The latter, specifically COD Modern Warfare2 edition is what we have here today on the butcher's block.
Model

ATI Radeon 5850

PowerColor
RADEON 5870 PCS+

ATI Radeon 5870

GeForce GTX280
GeForce GTX285

Manufacturing Process

40 nm

65 nm
55 nm

Grapics Core Freq.

725 MHz

875 MHz

850 MHz

602 MHz
648 MHz

Stream Processor Freq.

725 MHz

875 MHz

850 MHz

1296 MHz
1476 MHz

No. of Stream Processors

1440

1600

1600

240
240

Memory Technology

DDR5

DDR3

Memory Clock/Data Rate
[MHz/Mbps]

1000/4000

1250/5000

1200/4800

1107/2214
1240/2480

Memory Bus Width

256 bit

512 bit

Memory Bandwidth

128 GB/sec

160 GB/sec

153.6 GB/sec

141.7 GB/sec
159 GB/sec

On-Board Memory

1 GB

1 - 2 GB

1 GB

1 - 2 GB

ROPs

32

Texture Units

72

80

Texture Rate

52.2 GT/s

70 GT/s

68 GT/s

48.2 GT/s
51.8 GT/s

Fill Rate

23.2 GP/s

28 GP/s

27.2 GP/s

19.3 GP/s
21.4 GP/s

Power Connectors

2*6 pin

2*6 pin pin

1*6/1*8 pin

1*6/1*8 pin
2*6 pin

Max Power

151 W

195 W

188 W

236 W
183 W
Compared to a standard off the shelf RADEON HD5870, the overclocking is moderate, 25 extra MHz on the GPU and 50 MHz on the memory clock (200 MHz data rate) are not really earth shattering but it is enough to at least stay abreast of the default cards. Needless to say that no matter which flavor of a 5870 it is, it will have enough power for most applications, with maybe the exception of some Eyefinity configurations.
Other Features and Specs
The general features and specs of AMD's RADEON lineup are essentially the same as those of any other offering.
PCI Express 2.1 x16 bus interface
DirectX® 11 support

Shader Model 5.0
DirectCompute 11
Programmable hardware tessellation unit
Accelerated multi-threading
HDR texture compression
Order-independent transparency

OpenGL 3.2 support
Image quality enhancement technology

Up to 24x multi-sample and super-sample anti-aliasing modes
Adaptive anti-aliasing
16x angle independent anisotropic texture filtering
128-bit floating point HDR rendering

ATI Eyefinity multi-display technology

Three independent display controllers

Drive three displays simultaneously with independent resolutions, refresh rates, color controls, and video overlays

Display grouping

Combine multiple displays to behave like a single large display

ATI Stream acceleration technology

OpenCL support14
DirectCompute 11
Accelerated video encoding, transcoding, and upscaling

ATI CrossFireX™ multi-GPU technology
ATI Avivo™ HD Video & Display technology

UVD 2 dedicated video playback accelerator
Advanced post-processing and scaling8
Dynamic contrast enhancement and color correction
Brighter whites processing (Blue Stretch)
Independent video gamma control
Dynamic video range control
Support for H.264, VC-1, and MPEG-2
Dual-stream 1080p playback support9,10
DXVA 1.0 & 2.0 support
Integrated dual-link DVI output with HDCP

Max resolution: 2560x1600

Integrated DisplayPort output

Max resolution: 2560x1600

Integrated HDMI 1.3 output with Deep Color, xvYCC wide gamut support and high bit-rate audio

Max resolution: 1920x1200
Integrated VGA output
Max resolution: 2048x1536
3D stereoscopic display/glasses support

Integrated HD audio controller

Output protected high bit rate 7.1 channel surround sound over HDMI with no additional cables required
Supports AC-3, AAC, Dolby TrueHD and DTS Master Audio formats

ATI PowerPlay™ power management technology7

Dynamic power management with low power idle state
Ultra-low power state support for multi-GPU configurations






Last Updated ( Jun 02, 2010 at 02:12 PM )