We have 60 guests online
Login Form
| | | |
| --- | --- | --- |
| ASUS ROG Matrix 5870 Platinum Edition | | |
Written by Michael Schuette
Jun 07, 2010 at 11:23 PM
Page 1 of 20

The graphics market has for the longest time pretty much been dominated by AMD's offerings in the 5700 and 5800 series. However, nVidia is not dead, in fact, the Fermi-based graphics cards are poised to rekindle some of the "brand loyalty" that was based on the superior performance and corporate marketing of nVidia. In other words, don't sit on your ass just because the competition has had an unlucky streak. The best thing to do in that case is to create internal competition or fragmentation of the market through the channel partners that take a reference design, re-spin it to their liking based on cost, performance, noise suppression, features or any combination of the four mentioned parameters. The result is a variety of offerings that was never achieved when ATI still had their iron grip on the RADEON series and, quite honestly, we don't miss those days where the main differentiator was the color of the heat sink anodizing.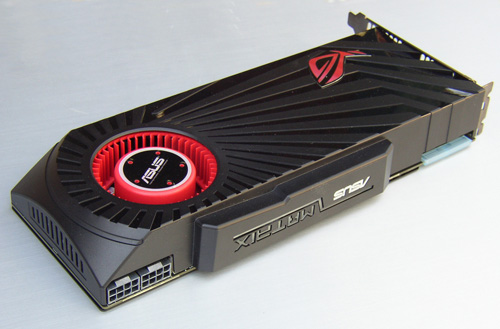 Among all those offerings and brands, we have always had our best relationships with ASUS, quite honestly, in the motherboard sector, there is no comparison with respect to innovation and quality, at least not consistently and similar verdicts ring true for the graphics card offerings. Being the leader, of course adds the "Red Queen Paradigm: you have to run as fast as you can in order to stay where you are", that is, you simply have to be better in order to stay number 1. Better, of course is a relative term, the biggest issue is to find the best compromise of all parameters involved and spice up the result with a bit of engineering ingenuity. And that, again, is something that ASUS has not had a shortage of.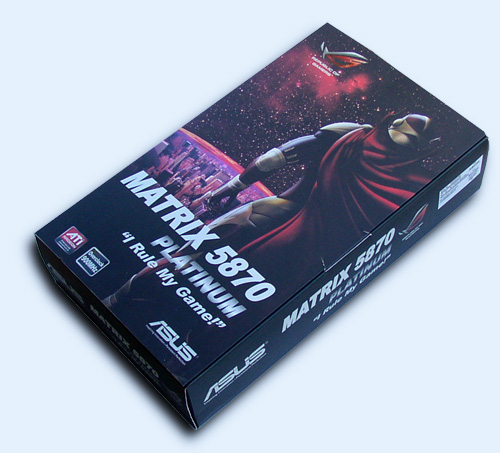 Of course, there is also the marketing aspect. Every year or maybe even every 6 months, the DIY builder community recreates itself, with first time system builders looking up to the printed and online magazines for guidance with respect to their first decision making. Mottos like "Rock Solid, Heart Touching" may sound a bit tacky but by the end of the day, they become an important messenger of the self-portrait of any company. For a graphics card, especially in the high-end sector, the message has to be, of course, somewhat different. So what about "I rule my game?" Sounds a lot better than heart-touching charity? I would whole-heartedly agree with that but of course, I must have read it somewhere... If I remember correctly, it was, indeed on the package sleeve of the ASUS Matrix 5870 Platinum that we are putting through its paces today.
Quick Overview
Model

ATI Radeon 5850

ASUS Matrix
5870 Platinum

ATI Radeon 5870

GeForce GTX280
GeForce GTX285

Manufacturing Process

40 nm

65 nm
55 nm

Grapics Core Freq.

725 MHz

900 MHz

850 MHz

602 MHz
648 MHz

Stream Processor Freq.

725 MHz

900 MHz

850 MHz

1296 MHz
1476 MHz

No. of Stream Processors

1440

1600

1600

240
240

Memory Technology

DDR5

DDR3

Memory Clock/Data Rate
[MHz/Mbps]

1000/4000

1200/4800

1200/4800

1107/2214
1240/2480

Memory Bus Width

256 bit

512 bit

Memory Bandwidth

128 GB/sec

153.6 GB/sec

153.6 GB/sec

141.7 GB/sec
159 GB/sec

On-Board Memory

1 GB

2 GB

1 - 2 GB

1 GB

1 - 2 GB

ROPs

32

Texture Units

72

80

Texture Rate

52.2 GT/s

72 GT/s

68 GT/s

48.2 GT/s
51.8 GT/s

Fill Rate

23.2 GP/s

28.8 GP/s

27.2 GP/s

19.3 GP/s
21.4 GP/s

Power Connectors

2*6 pin

2*8 pin

1*6/1*8 pin

1*6/1*8 pin
2*6 pin

Max Power

151 W

200 W

188 W

236 W
183 W
The main differentiator, when just looking at the tech specs are the 2 GB of onboard memory along with the GPU being overclocked out of the box to 900 MHz. In addition, the "Matrix" features two 8 pin auxiliary power connectors to make sure that there is enough supply power for any possible event or user setting dialed in through iTracker2, a brand new utility superseeding the former ASUS "SmartDoctor" and, to jump ahead of ourselves, it is not just a new skin, so bear with us here a bit longer.
Other Features and Specs
The general features and specs of AMD's RADEON lineup are essentially the same as those of any other offering.
PCI Express 2.1 x16 bus interface
DirectX® 11 support

Shader Model 5.0
DirectCompute 11
Programmable hardware tessellation unit
Accelerated multi-threading
HDR texture compression
Order-independent transparency

OpenGL 3.2 support
Image quality enhancement technology

Up to 24x multi-sample and super-sample anti-aliasing modes
Adaptive anti-aliasing
16x angle independent anisotropic texture filtering
128-bit floating point HDR rendering

ATI Eyefinity multi-display technology

Three independent display controllers

Drive three displays simultaneously with independent resolutions, refresh rates, color controls, and video overlays

Display grouping

Combine multiple displays to behave like a single large display

ATI Stream acceleration technology

OpenCL support14
DirectCompute 11
Accelerated video encoding, transcoding, and upscaling

ATI CrossFireX™ multi-GPU technology
ATI Avivo™ HD Video & Display technology

UVD 2 dedicated video playback accelerator
Advanced post-processing and scaling8
Dynamic contrast enhancement and color correction
Brighter whites processing (Blue Stretch)
Independent video gamma control
Dynamic video range control
Support for H.264, VC-1, and MPEG-2
Dual-stream 1080p playback support9,10
DXVA 1.0 & 2.0 support
Integrated dual-link DVI output with HDCP

Max resolution: 2560x1600

Integrated DisplayPort output

Max resolution: 2560x1600

Integrated HDMI 1.3 output with Deep Color, xvYCC wide gamut support and high bit-rate audio

Max resolution: 1920x1200
Integrated VGA output
Max resolution: 2048x1536
3D stereoscopic display/glasses support

Integrated HD audio controller

Output protected high bit rate 7.1 channel surround sound over HDMI with no additional cables required
Supports AC-3, AAC, Dolby TrueHD and DTS Master Audio formats

ATI PowerPlay™ power management technology7

Dynamic power management with low power idle state
Ultra-low power state support for multi-GPU configurations






Last Updated ( Jun 22, 2010 at 09:53 AM )