We have 41 guests online
Login Form
| | | |
| --- | --- | --- |
| ASUS Matrix 5870 + PowerColor 5870 PCS+ in CrossfireX | | |
Written by Michael Schuette
Jun 20, 2010 at 04:01 AM
Page 1 of 17

What happens if one takes two RADEON 5870 non-reference designs running at different core and memory frequencies, not to mention different memory configurations, and runs them in CrossfireX mode? The candidates in this case are the ASUS MATRIX 5870 Platinum Edition and the PowerColor PCS+ RADEON 5870. The MATRIX runs its core / memory at 900 / 1200 MHz and features the full-blown 2 GB local frame buffer supported by the design, whereas the PCS+ is clocking the core at 875 MHz but pushes the memory frequency up to 1250 MHz for a whopping 5000 Mbps. The reason we are asking is simply that the market often enough dictates the purchase and whatever is on sale may or may not be compatible with another card that is already in the system. Theoretically, there shouldn't be much of a problem but reality bites more often than not.
The next question is about scaling in crossfire mode. How much performance increase is delivered by the two cards in tandem and in which applications? We ran an entire gamut of synthetic and real world gaming applications to have the answers.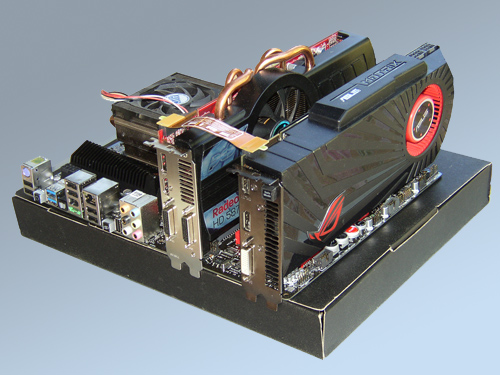 Both cards have been reviewed in detail here (MATRIX) and here (PCS+), but as a refresher, we have at least some images of either card.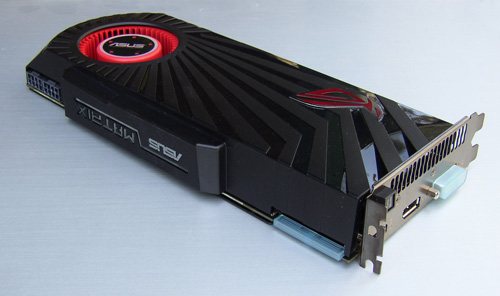 The ASUS "MATRIX" runs the core at 900 MHz and boasts 4.8 Gbps data rate out of 2 GB onboard memory.
The PowerColor "PCS+" runs the core at 875 MHz and uses 1 GB on-board memory clocked at 5.0 Gbps
Test Configuration
Hardware
Motherboard: ASUS ROG Crosshair IV Formula
Memory: OCZ3ALVE16004GK
CPU: AMD Athlon II X4 965 BE
Cooler: OCZ Vendetta 2
HDD: HDD: WD 1500ADFD (Raptor)
SSD: Intel SSDSA2MH080G15E (80 GB)
Optical Drive: HP dvd1070i-H01 6 Multiformat DVD writer
PSU: PC Power and Cooling Silencer 750 Crossfire Edition
Graphics Cards: ASUS Republic of Gamers Matrix 5870 Platinum* , PowerColor RADEON HD 5870 PCS+, ASUS EAH5850 TOP, ASUS RADEON EAH5770 CuCore, ASUS RADEON EAH5750 Formula, ASUS RADEON EAH5850, PowerColor RADEON HD 4890, MSI RADEON 4870, Diamond MM RADEON 4870 X2, BFG GeForce GTX280
Monitor: Acer H233H (1920 x 1080), Acer B233HU (2048 x 1153)

Software

All benchmarks were run under Windows7 Ultimate Edition RTM (Build 7600, all updates installed) at 1920 x 1080 with the exception of 3DMark Vantage which was run at the default setting of 1280 x 1024 and Aliens vs. Predator and Resident Evil (2048 x 1153). Our benchmark suite comprised:

Synthetic Benchmarks
3DMark Vantage (Futuremark)
Tropics DX10.1 benchmark (Unigine)
Sanctuary DX 10 Benchmark (Unigine)
Heaven DX11 benchmark (Unigine)
Game Benchmarks
Aliens vs. Predator (PC Benchmark release)
Crysis (Electronic Arts; demo version;)
Devil May Cry4 (Capcom; demo version)
Dirt 2 (CodeMasters)
FarCry2 (Crytek, Ubisoft)
F.E.A.R.2 - Project Origin (Monolith Productions)
GRID Ebay Motors (Codemasters)
Resident Evil (Capcom, Demo version)
Shattered Horizon (Futuremark)
World In Conflict (Massive, Sierra)
Discuss this article on our forums

Last Updated ( Jul 18, 2010 at 02:11 PM )