We have 19 guests online
Login Form
| | | |
| --- | --- | --- |
| 3DMark 11 Sneak Preview | | |
Written by Michael Schuette
Oct 17, 2010 at 10:46 AM
Page 1 of 4

Over the past decade, we have had a very close relationship with Futuremark and even its predecessor Remedy Studios that essentially brought us the first comprehensive graphics benchmark in the form of FinalReality 1.01. I have met Markus Mäki, Tero Sarkinen, and more people than I can remember with Finnish names that I could not pronounce if my life depended on it. Needless to say, they were all good guys and hard drinkers.
All of that aside, Futuremark has been the industry graphic benchmark for more than a decade and I have been lucky enough to get a bit of insight in the inner workings of the company that has taken it upon itself to establish some kind of competition to whatever standards organizations are out there that are more or less 5 years behind the curve. The inner workings of Futuremark are pretty well hidden from the outside but any company willing to contribute a relatively minor membership fee can have some input in the form of feedback or else have access to the source code, which incurs a somewhat steeper price tag. But nothing compared to the monthly advertising cost on a prime hardware review site.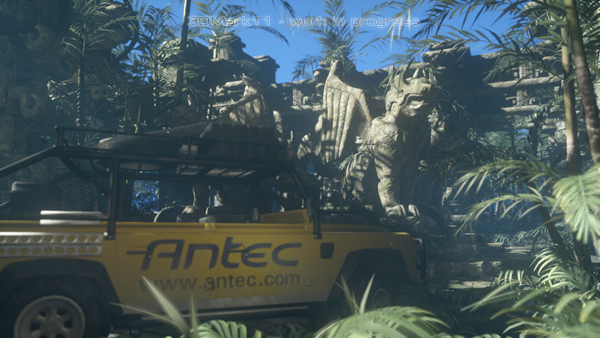 Futuremark benchmarks are split between 3DMark and PCMark, with the former tacking primarily the graphics subsystem including, however, any kind or auxiliary or ancillary functionality like PhysX that has made its way into the presentation of modern graphics in a 3D environment. The latter, that is PCMark has established itself as a "benchmark" benchmark against all kinds of home-brew trace-replay for storage reviews and also as a practice oriented performance metric for other PC components.
For today, the topic is 3DMark. There has been an interesting shift in the nomenclature of 3DMark over the past few years. We had the series of 3DMark'99 to 3DMark'06 named after the year they were released, then there was 3DMark Vantage and now we face 3DMark 11 and it is only 2010. Sure, 3DMark 11 has not been released yet but it is scheduled to come out later this year – I mean, if there is any later than now, after all, we are already pushing November. However, 3DMark 11 marks something different than the year of release, rather it is geared towards testing DirectX11, the latest release of Microsoft's Direct X API. It is kind of interesting to look back and try to figure out what the major milestones in DirectX were. DX5 was kind of a big thing, DX6 was more or less a dud but DX7 made things exciting again. And then there was DX9 with all the advanced shader support and DX10 that was ignored by nVidia and brought incremental performance and eye candy through ambient occlusion to AMD cards. And finally, DX11 to bind them all in a tessellated environment, posing the biggest leap between DirectX generations in a long time. Likewise, 3DMark 11 is the one benchmark that finally does away with some of the things in real time rendering that made the characters and scenes look like some anachronism from the last millennium.
Last Updated ( Dec 28, 2010 at 01:42 AM )